Secondary Research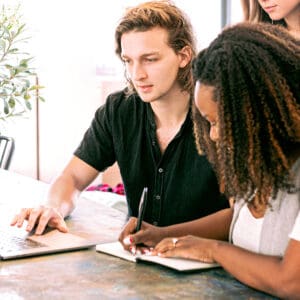 For secondary or desk research, with information easily and generously available online, how to select relevant sources to back-up our ideas? For effectiveness, follow this research process:
1. Define your topic: this will help you narrow down your research, save time, and avoid information overload. ie: If your task is to fix the HR onboarding training, your topic will be HR training.
2. Determine which fields of study you need to research: this is to narrow down the journals and articles you will study. ie: If the topic is HR training, the areas you may look into are: HR and recruitment, staff training, instructional design, learning neuroscience, how to evaluate learning.
3. Identify sources based on existing research: This is the actual search for articles, journals, talks, videos, and technologies.
To find journals easily, you can use https://scholar.google.com/ and type in your topic or fields of study.
Regardless of the search engine, refine your search based on key words and update your key words as you learn new information.
4. Evaluate the sources of information: As everyone is freely allowed to post information online, the articles you reach do not necessarily have a basis. Here are a few aspects to verify before accepting a certain source:
a. Relevance – At a glance, does the source actually address your topic? Language can be ambiguous, and the title doesn't always represent the content.
b. Trustworthiness – Is it a known publisher of materials on the topic? Do they have reliable references? Is the author a specialist? Do they reference scientific studies and trials that support their statements?
c. Risk of bias – Is there an interest in the author/platform to skew information to their benefit? Do they have a political or commercial agenda? Are they selling something? Do they try to convince you to adopt a certain product, decision, or behaviour?
d. Date and place – Choose the most recent studies, especially in modern industries (ie: marketing, social media, technology etc.). Ensure to prioritise research conducted on your target audience or the population you work with the most. (ie: if a study was only conducted in the USA, while your team is all comprised of Asian people, some cultural aspects may conflict, and some might not be taken into account at all in that article.)
5. Organise the information and draw conclusions: Based on the sources you have selected, you then study the information, and infer relevant suggestions for your work.