Primary Research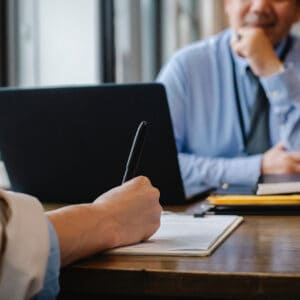 For primary research where you engage directly with your audience, the process splits after the first 2 steps:
Define your topic.
Determine which fields of study you need to research.
Define your audience(s) and stakeholders – clients, receivers of that product or service, staff who have to design or develop the product or service, sales team, strategy team etc.
Define your hypothesis or assumptions – What exactly do you intend to check with these stakeholders? Perhaps you want to check assumptions about consumer behaviour, sales risks and opportunities, or alignment with the company strategy.
Design and develop your research tools – You may want to have a brainstorming session with a team, a focus group discussion with the sales team, a survey for the clients, and an interview with the strategy director. These tools can be as complex or as concise and simple as needed for the problem at hand.
Implement the research tools.
Organise the data and draw conclusions.
The depth and thoroughness of both desk and primary research should be adjusted to the complexity and importance of the problem addressed.
In a presentation or meeting where you are defending your suggestion or idea, you will need to reference these conclusions, but your research process could also be challenged and questioned, so be prepared to explain your process and how you approached the data gathering and analysis.